Sunday, November 05, 2006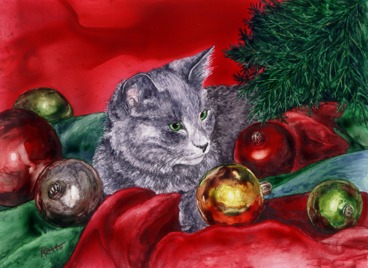 I've teamed up with FieldHaven Feline Rescue (in Lincoln, CA) for the annual holiday cat & kitten adoption campaign. This is the second year their efforts have been spotlighted at Il Giardino, a boutique shop in Lincoln. Il Giardino provides window space for a winter wonderland display featuring adoptable kittens and cats. Last year's display provided some wonderful photo opps for Joy Smith, FieldHaven's director. One of her photos caught my eye and I asked if I could use it as a reference for a painting. One thing led to another and we're using the painting as part of their marketing campaign for this year's event.

The painting measures 7"x10" and is watercolor on Yupo (a synthetic paper); the image will be used on FieldHaven's event advertising materials and I'll donate a portion of the proceeds from the sale of the painting, prints and cards to FieldHaven. The painting will be on display during the 13th Annual Autumn Art Studios Tour (read more below) and if it doesn't sell that weekend, I'll hang it at the Auburn Old Town Gallery where I show my work. Of course, you can also contact me if you're interested in purchasing it. Prints and cards will be available soon on my web site.

And now for the info about the 13th Annual Autumn Art Studios Tour:
I'll be brief for now ('cause I really should be getting things together for the Tour - less than a week to go!!), but I'll provide a follow up after the Tour. I've participated in this event for the past 8 or 9 years and I really enjoy it. It's a self-guided tour of artists' studios in our area. Art enthusiasts buy a ticket (for the bargain price of $10) and receive a map showing all the locations that are open for the weekend (this year it's Nov. 10th - 12th), then they hop in their cars and drive around our lovely countryside, stopping at art studios along the way. Most of the artists demonstrate and of course, they offer their art for sale. It's a great way for the public to learn more about what we do! This year, we have over 75 artists participating at 60+ locations (some artists group together at one location). For more info, visit the Arts Council of Placer County's web site - they're the sponsors of this wonderful event.