Saturday, October 31, 2009

"Lorna Doone", 5" x 7" Drawing

Lorna and her sister Mary (as in Queen of Scots) are two wonderful and woolly Scottish Highland Cattle. Their owner invited me over a few years ago to meet them and take photos. They're very sweet girls and I got plenty of great reference photos. I just love the texture of their shaggy coats and I knew they'd be great subjects for art.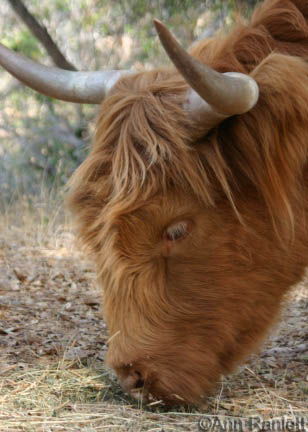 Color Reference Photo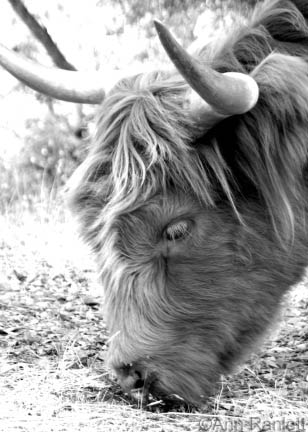 Reference Photo - converted to greyscale, contrast tweaked

I decided to do this illustration on Ampersand Scratchbord (formerly Claybord Black). And yes, it's spelled "bord". Scratchbord is a 1/8" thick panel with a smooth clay surface that's pre-coated with black ink. I do 98% of my scratchboard drawings on a white surface on which I paint/draw the black areas where I want them, but some images just cry out for an all black surface. To "draw" on the black surface, I scratch in the lines with an X-acto knife (#16 blade) - basically, I'm drawing white with the knife. I can go back in and ink a few places with black to adjust the contrast or fill in an area, but mostly I just scratch away to expose the white surface under the black coating. I can also "re-scratch" the inked areas to soften the contrast. I did that on parts of the horns and on the darkest areas of Lorna's hair. The solid black background is the original pre-inked surface. On this drawing, I also scratched a very thin line along the edge and added some random scratches for effect.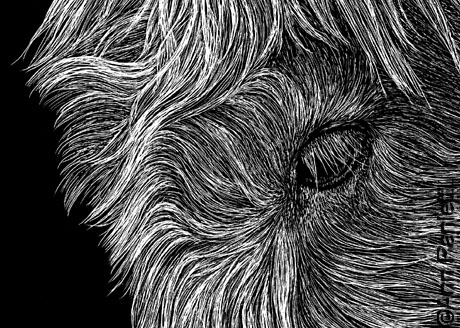 Detail 1 of "Lorna Doone"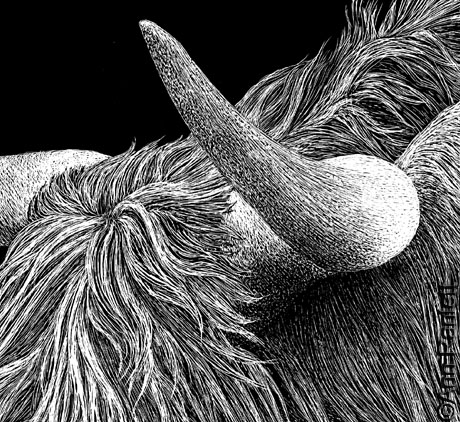 Detail 2 of "Lorna Doone"

I decided not to frame this drawing. I sprayed the surface with Claybord Fixative (seals, protects and removes smudges) and have put a hanger on the back - simple! In trying to find a link to the Fixative, I've discovered it was discontinued in 2007 (obviously, I've had mine for a while) and they're working on a new formulation with UV protection. In the meantime, Ampersand recommends Krylon #1305 or #1309.

I won't be making my own cards or prints of this one - too much black - it'll chew through my printer ink in no time, but you can buy note cards from my Zazzle shop.