Saturday, February 23, 2013
I decided to try and enter more art shows this year. Not just local shows, but shows where I have to ship work that is selected. In past years, I haven't had much in the way of "surplus" art. Much of my work is commissioned pieces which aren't available to enter in shows. The extra work I do have is needed in my space at the Auburn Old Town Gallery. This year, I have some extra art because I did a number of new paintings for an Art Walk last year, and over the years, the surplus has been building up. Many shows require that entered work be current, created within the last year or two, others aren't as particular.

While being accepted into select shows is good for my resumé and garners exposure in new places, it also has a downside in that I have to pay to enter and then pay to ship my work. However, another item on the plus side is that shows offer cash awards, so it's worth a shot. If I'm hoping to win an award, it's important to pick shows where my work has a chance, so I look for shows where my art (subject and/or medium) is a good fit. So far, things are going well, I entered three pieces in the Sacramento Fine Arts Center's "Animal House" show and all three were accepted (no awards, but at least I was able to hand-deliver the art). One of the pieces was my scratchboard drawing of Magpie, mainly because I want to bring attention to scratchboard when I have the opportunity. It's an uncommon medium in the art show world. Rarely is there a category specifically for scratchboard. Sometimes there will be a category for "drawing". In the SFAC show, all two-dimensional art other than photography was lumped together.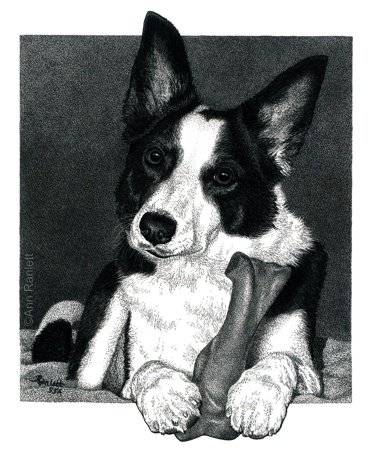 The other two entries were paintings "recycled" from the Art Walk: Ernie & Velvet.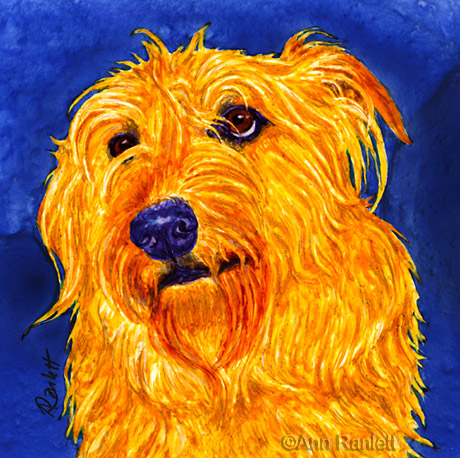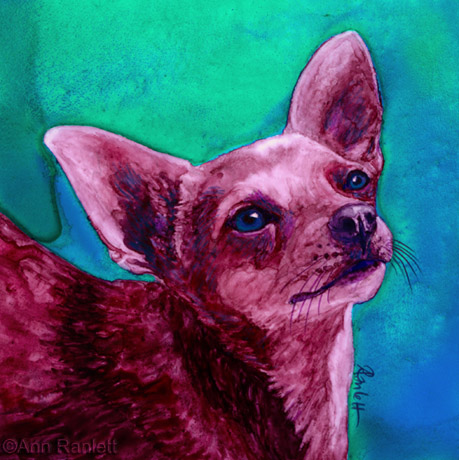 My work was also accepted into the
26th Annual "Animals in Art" Show
at the LSU School of Veterinary Medicine. I learned of this show in 2012 and thought it would be a good one to enter this year. I submitted two works and one was accepted. I'm honored to have been selected, since my drawing of Homer the pig was one of 75 pieces chosen out of 426 entries submitted by 181 artists. Homer is an older drawing, but there was no restriction on creation date for this show. I looked at last year's entries and thought he would be a good fit; I'm glad the judge thought so too! The show opens March 23rd, awards have not been announced yet.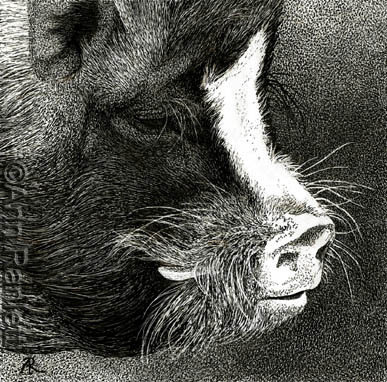 I'm currently working on a diptych (two-part drawing) for the
ISSA's
2nd Annual Scratchboard Exhibition, which I'll have to ship to Vancouver (British Columbia). I'll be attending the Exhibition and annual conference, so I definitely want a piece or two in that show. I have one or two others already completed that I'll enter, but I really want to have something new and different to submit. I created the Magpie drawing above for the 2012 ISSA show.
And since this has been a really scratchboard-heavy post, why not finish it off with a preview of works in progress for an upcoming solo show of my drawings? It will be in April in the "
Art Can Heal
" gallery of a local hospital. I'm scratching away like a mad woman to complete 15 new drawings for my
"Down of the Farm" show
. The icing on the cake for this show is that it will add to my surplus of art to enter in shows later this year and into 2014!