Friday, January 05, 2007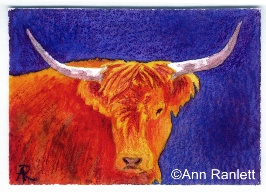 Well, I guess I'm hooked on ACEOs now (see the previous post for more info on ACEOs - Art Cards, Editions & Originals) - this is my second one in less than a week and I have a bunch more in the planning stages. The "model" for this painting is Lorna Doone, a lovely, shaggy Scottish Highland cow belonging to a friend of mine. Lorna Doone and her girlfriend Mary are very nice gals and I took a lot of photos when I spent some time with them one day last year.

This mini original piece of art will be available on eBay for the next week. View my current listing(s)

Below is a photo of the two "girls" - Lorna Doone's on the right.