Tuesday, January 09, 2007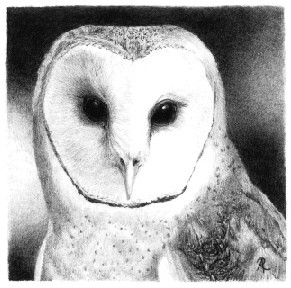 This is my pencil drawing of Grayson, a handsome barn owl that resides at the Folsom City Zoo Sanctuary. I created it because I realized I needed a new raptor (bird of prey) drawing for an upcoming event and I had some nice photos of Grayson for reference. The event on January 27th is an open house & fund raiser at Scott's Corner Hay & Feed, a local business.

Click here to see the flyer for the event.

The folks at Scott's Corner are raising funds for a couple of local animal organizations, one of which is the California Foundation for Birds of Prey - that's why I wanted a raptor drawing. Staff of the CAFBP and the Folsom Zoo will be at the event with raptors and other critters. Of course, I'll be bringing my camera! In addition to myself, another artist, BK England will be at the event. She does wonderful pastel paintings of horses and is a big fan of Haflinger horses. The 2 cuties in the photo are BK's Haflingers. BK and I are looking forward to a fun day at Scott's Corner, hope you can join us!