Sunday, April 22, 2007
Haven't posted in a while and here I have 2 posts in one day! This'll be a shorter one than the last . . . and with more pictures.

Just listed this tabby kitten ACEO. I call it "The Look", 'cause she has that "look" that we all know - cute as heck, but devilish and mischievous too! Hey, she's a kitten - she can't help it. I took this photo a while back at FieldHaven, a local feline rescue and adoption center. I always take my camera when I go over to visit since there are plenty of great photo opportunities.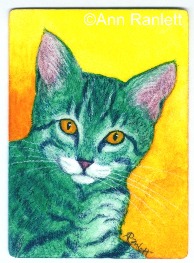 Click on the image to view the auction. And yes, I know the kitten is green - it's intentional.

I also have this Thick-Billed Parrot listed - the auction ends in just under 3 days. This is the second TB Parrot ACEO for me - search previous posts for the first one.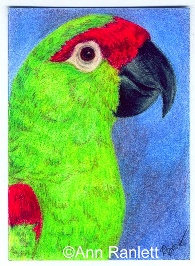 At the request of one of the bidders on this auction, I've also created some TB Parrot earrings. Those are in my store and will be available indefinitely.



Click on either image to view the auction.