Wednesday, July 25, 2007
I just packed 2 paintings to go to Nashville, Tennessee - they're destined for the the Tomato Art Fest show at the Art & Invention Gallery. If all goes well, they'll find new homes in Nashville and won't be coming back! Why, you may ask is Ann, the animal artist: #1, painting tomatoes and #2, sending the art to Nashville?

Well I'm glad you asked! Here's the story:
I painted a tomato for the 2005 Loomis Eggplant Festival, where I had a booth with my art in both 2005 & 2006. Of course, I was displaying my animal art, but thought it would be appropriate to have some eggplant art and decided to paint a tomato as well. Then, about this time last year, I received an e-mail from the owner of the Art & Invention Gallery asking if I still had the original tomato painting. She'd come across the image in my CafePress store while searching the internet for tomato art for the Tomato Art Fest show.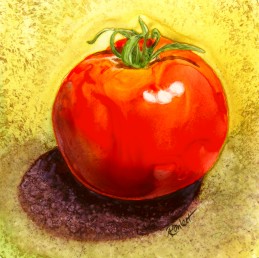 I had already sold it, but I offered to send her some cards and magnets with the image. She liked that idea, so I sent those items, most of which she sold. Since the Tomato Art Fest is an annual event, I told her I'd get a new painting or two done for this year's show.

Now back to present day. I painted one piece of three tomatoes ("Three Amigos") in watercolor on Yupo.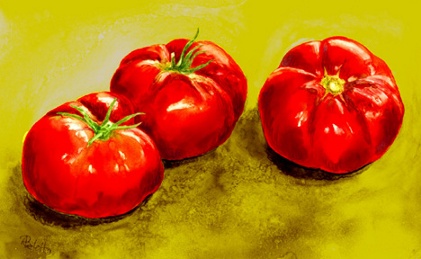 I was contemplating painting another tomato piece, but while searching through my reference photos, I came across an interesting photo of a tomato worm (tobacco hornworm). Now, it may seem blasphemous to put a painting of a tomato worm in a show honoring the luscious tomato, but I felt it could work, even if it was a bit subversive. I did run the idea past the gallery owner and she said "go for it". The photo was completely green (not terribly interesting), but I liked the composition, so I played with it a bit in PhotoShop to tweak the colors and provide a guide for the painting. Below, you'll see the all-green photo, the PhotoShopped version and the final painting ("Green Scourge").

This painting took on a life of its own - I started with watercolor on Yupo, but the background colors blended more than I'd planned. It was at this point that I realized the painting was not going to resemble the photo all that much. That was fine, I decided not to fret over it - I was happy with the colors and overall look, so I moved forward. I used color pencil on top of the watercolor to add detail and additional color to the worm, tomato and stem. I also changed some of the shading - the shadow under the worm was a glowing yellow, which looked great in the photo, but didn't read right on the painting. Even after adding color pencil, it still needed "something", so I put a bit of black ink linework on the same components.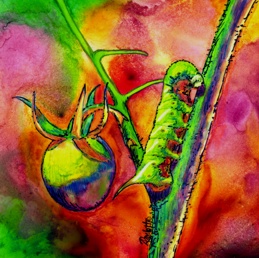 The painting has a psychedelic, graphic look to it - I'm quite pleased with the way it turned out.