Wednesday, October 31, 2007
My friend Sandy and I attended the "Pug-O-Ween" event in Lodi CA on Sunday - an event best described as humorous. It was put on by PugSavers, a pug rescue group and it's an annual fundraiser for them. Of course many of the pugs were decked out in Halloween costumes and all of them were wrinkly and snorty. Some (perhaps many?) of the pugs in attendance had been adopted through PugSavers and a few were still in need of forever homes or temporary foster homes.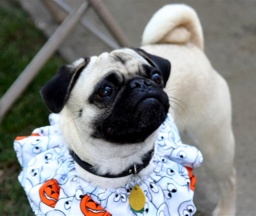 The event was held in a securely fenced lawn area, so the pugs were all off leash and running (or waddling) around having a great time visiting with their wrinkly buddies and making new friends. I have never seen a pug really get out and run as some of the younger, svelt-er ones were doing - that was a kick to watch. A number of the pugs came up to us while we were sitting on the lawn. I'm sure it was our pizza lunch that attracted them, but they were pretty content to get some love instead.




One of the pugs that stopped by to visit was this odd-looking little guy, Mikey (photo above). He was the sweetest thing but he sure looked funky. We found out later he's in need of a foster home, is recovering from a severe case of mange and that he's actally looking pretty good, compared to his condition when PugSavers found him. If it weren't for the fact that our husbands aren't as loopy for animals as Sandy and I are, one of us would've been seriously tempted to take him home. He was definitely the pug equivalent of a "Charlie Brown Christmas Tree"!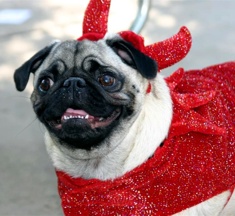 We certainly had fun hanging out with pugs for a couple of hours - it was worth the hourlong drive to Lodi!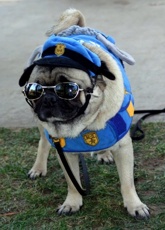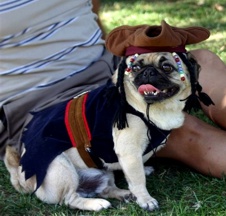 Later that afternoon, I met up with another friend and her family (brother, husband and 3 kids) for our annual pumpkin carving festivities. We've done this every year since college (I've known her since high school) and figured we've carved at least 300 pumpkins in that 30 year span - that's a lot of pumpkin guts! Of course, in honor of the pugs, I carved this pug-kin, sorry it's not all that easy to see, but you'll have to trust me, it's cute.