Friday, November 16, 2007
It's a good news/bad news post today - and a rather long one.

The annual Autumn Art Studios Tour was a success last weekend (11/10 & 11/11). I've participated in this event for 9 or 10 years and it's always enjoyable. The past couple of years, I've set out my wares in our spacious garage. This year, however, I teamed with two nearby artist friends (Judy Dawson and Arry Murphey-Frank) and set up at the Gold Hill Grange Hall about 2 miles from my place. Although the focus of the Tour is for visitors to see where we do our work and how we do it, there are a number of locations where artists show together. My "studio" consists of a messy spare bedroom converted to an office/studio and my couch! So it's never been open to the public, which is why I've set up in the garage. Judy, Arry and I wanted to see if we could have a more successful weekend by showing at a group venue. We'd had trouble getting the attendance that other artists regularly had. Judy & Arry also had some traffic, safety and parking issues on the country road where they both live.

Our decision was a good one and we had 150 visitors during the weekend and good sales for all 3 of us. Definitely more traffic than any of us ever got at our own homes and sales were probably about the same as in past years. Visitors were enthusiastic and interested in our work and how we go about making it. We all had work in progress to show and discuss and a variety of items for sale - originals, prints, cards, etc. Of course, I had some of my CafePress items and the tiles with chickens were especially popular.

It was a great weekend and I'm sure glad it was busy, because I certainly needed the distraction . . . and now for the bad news.

I try to keep my blog focused on my work and art-related adventures as opposed to personal stuff, but when one's work (pet and animal art) and a big part of one's personal life (huge love of animals) are as intertwined as mine are, the personal has to be addressed when it's as rough as this.

We lost our dear dog Patch in surgery on the Friday (11/9) before the Tour. It sure was a difficult week since I was trying to get ready for the Tour and set up on Friday and Patch was in and out of the vet clinic. I'm so grateful my husband John was able to take time off work to help deal with Patch's illness.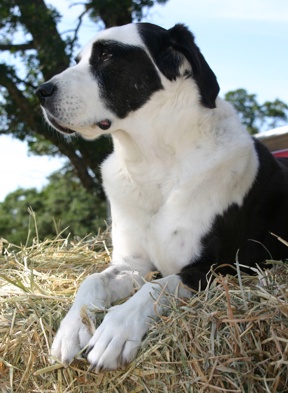 Up until the Saturday the week before the Tour, Patch was his happy go-lucky self. But on Sunday, an adrenal gland tumor began to make its presence known. He was acting stiff and uncomfortable in his hind end so I took him to the vet on Monday. The vet didn't think it was anything other than a twist or tweak to his back or hips (Patch showed no signs of an abdominal problem), so we put him on pain medication. He was much better Monday afternoon and almost his normal Patchy self on Tuesday. Wednesday morning, however, he was a wreck, so I took him back in to the vet.

We were waiting to be checked in and Patch started going into shock, so they whisked him off to the back. He was bleeding internally and ultrasound showed a mass near one of his kidneys that had probably ruptured (causing the bleeding) and another mass in the main vein returning to the heart. They got him stabilized (including a transfusion of blood from a donor border collie) and well enough to come home with us until surgery could be scheduled. The vet tried to get a couple of specialists to operate but they declined. Our wonderful vets discussed it and realized they were probably Patch's only hope and they were willing to try if we were willing to let them. He deserved the chance so we agreed. He was actually looking pretty good on Friday morning when we took him back for surgery. So we felt a bit better about the outcome, but I think we all knew it was a risky surgery - that there might not be much the vets could do.

Unfortunately, to operate on the tumor in the vein (it was all one tumor that had started in the adrenal gland and spread), they had to clamp off major blood vessels from his hind legs and his heart just couldn't handle that - he went into cardiac arrest during the surgery and there was nothing more they could do.

We are so grateful for the terrific vets (Dr. McDougall & Dr. Schmidt) and staff at Arbor View Vet Clinic - they were compassionate and caring and willing to give our K9 boy a chance. We don't regret our decision - Patch was such a good dog, he really, really deserved that chance. He had just turned 12, but other than a good bit of "frosting" on the black parts of his face, you'd never know he was that old. Up until he was about 10, we still had folks asking if he was a puppy! If he'd been an "older" 12, we wouldn't have put him through the surgery, but we were confident that if the surgery was successful, he'd be ok.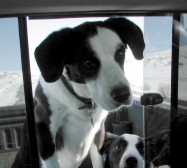 Of course Patch is dearly missed by his family and many friends - lots of tears have been shed (and quite a few as I've been typing). But as horrible and painful as it is to lose a beloved pet, I can't imaging not having them in my life.

And to top this all off, my good friend Sandy lost her girl Scooter recently - the week before we lost Patch.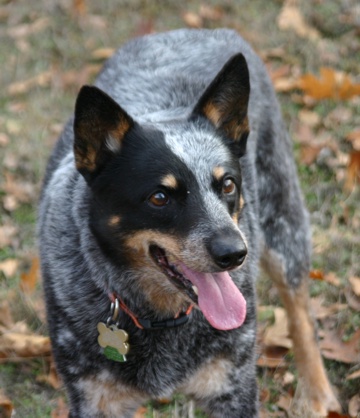 My heart is so small
it's almost invisible.
How can You place
such big sorrows in it?

"Look," He answered,
"your eyes are even smaller,
yet they behold the world." ~ Rumi