Tuesday, January 29, 2008
Thinking ahead to Valentine's Day, I've listed an assortment of LOVE-ly art in my eBay Store. Note cards, prints, magnets and of course a couple of ACEOs with a few different images.

This ACEO, "Puppy Love #4" is my latest. Click on the image to see all my "art with a heart" on eBay.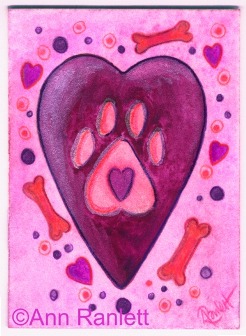 This one's watercolor & color pencil on paper, 2.5" x 3.5"

In case you're wondering, yes, I have created 4 "Puppy Love" ACEOs. #1 & #4 are on eBay, #2 sold a while back. #3 is going to the Auburn Old Town Gallery, a fantastic co-op gallery where I show my work. And I'm not only a member artist, I'm also the web master!