Wednesday, April 23, 2008
Tootsie, a brown leghorn hen, is one of the girls in a small flock of chickens that enjoy life in Stacey Lamothe's world. Stacey is a fellow member of the Auburn Old Town Gallery and she creates wonderful things out of metal. I have a couple pairs of her earrings and a custom bracelet. Click here to check out her work!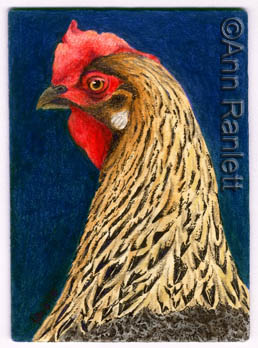 The Tootsie drawing has sold and is now in England. But the image is available on a magnet in my CafePress shop - click here to see the nifty cool magnet.

This mini drawing (ACEO format: 2.5" x 3.5") is in ink, watercolor and color pencil on cold-pressed (smooth) illustration board. I titled it "Chicken in Charge" because of the confident look on Tootsie's lovely avian face.

I made a short WIP (work in progress) video of this drawing. Click here to watch it.