Tuesday, March 03, 2009
I met the client who commissioned Ripple at the Auburn Old Town Gallery one day. She's from Alabama, but was in Auburn visiting her daughter and they both came in to see the art. We had a wonderful conversation about dogs and the charity in Alabama for which she volunteers - Hand in Paw. Really, I'm not at the Gallery all the time, but I work there 2 afternoons a month, and since it's only a few minutes from home, I stop in often. So it was still serendipitous that we were all there at the same time. She mentioned that her sister had a very beloved poodle mix and she'd get back to me about commissioning a portrait as a surprise gift. She may well have contacted my by e-mail even if she hadn't met me that day, but I know that the face to face conversation helped her learn more about me and my portraits and was probably the reason she choose me for the commission. That personal touch is so very important!

At first she wanted a detailed scratchboard portrait, but when I saw the photos she'd been able to "sneak" and e-mail, I told her they were less than ideal, but I'd be willing to give it a try. Over time and with subsequent visits back to Auburn and the Gallery (where she was able to see my various styles of portraits) and e-mail discussions with me, she opted for a portrait in my Petzazz style. We're both very glad she went that route. The Petzazz paintings are looser and more interpretive, so it was much easier to work in that style for Ripple's portrait.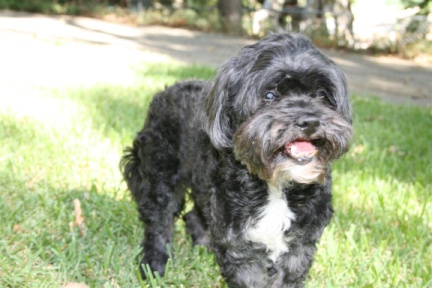 This was the most useful of the photos - showing a great expression and head angle, even if a bit blurry. You can see how it would have been challenging to pull a detailed scratchboard portrait out of that.



I cropped the photo to focus on Ripple's head.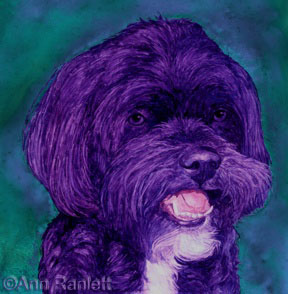 I had a lot of fun with this portrait - the Yupo surface allows me to push paint around and lift it to create all the interesting texture in Ripple's fur. I also "turned back the clock" a bit - getting rid of his cataracts and making him appear less grey. I also chose not to show his back on the left, making it look more like he was sitting instead of standing.



A detail of the portrait



Even more detail of the portrait

PS - I didn't know until today how Ripple's owner felt about the surprise gift of the portrait, but now I do and I'm so pleased that she is happy with it! See the comment below.