Wednesday, April 22, 2009
This post is not as happy and lighthearted as most, but I want to share a cause I recently joined. I won't go into a lot of detail, because it's disturbing, but moon bears in China & Vietnam are kept in tiny cages in "bile farms" so their bile can be collected. It's a horrible existence for these bears and I can't understand how anyone could think this inhumane treatment is acceptable. Fortunately, for the bears, there is the Animals Asia Foundation (AAF), which rescues and provides sanctuary for the bears from the bile farms.

I don't even recall how I found out about this, but I was drawn to the cause and joined the Ursa Freedom Project (UFP) when I learned they had an "Art for Bears" sub-group. I know there are plenty of animals in our country that are suffering, and for that reason, I usually choose to support local animal rescue organizations, but something about the moon bears got my attention. UFP is working directly with AAF to raise money to help the bears.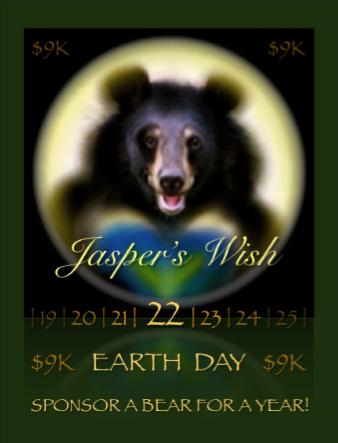 Our fund-raising push right now is to raise $9,000 - enough money to sponsor a rescued bear for a year. On March 20, in 24 hours, we raised nearly $1,000 for
(AAF)
- so now, over a 6-day period (April 19 - 25), we're hoping we can raise more during our Earth Day Bear Sponsorship.
If you'd like to help, you can
make a donation to UFP/AAF via PayPal
- thank you!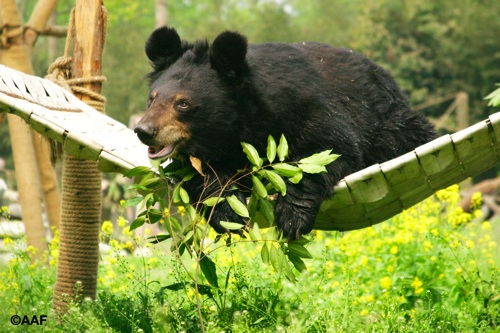 This is Jasper - UFP's official mascot, happy and safe in his hammock at the AAF bear sanctuary in Chengdu, China.
I have one piece of moon bear art finished and am working on a couple more - when they're finished, they'll be available for purchase with a portion of the proceeds going to AAF. The plan is for a number of artist members of UFP to sell art to benefit the bears, when I have more details and dates for that, I'll post it.
My drawing of Rosie, one of the rescued Moon Bears.
2.5" x 3.5", ink, watercolor, color pencil