Monday, June 22, 2009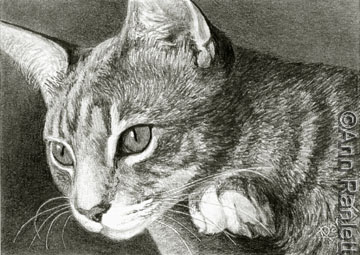 "Chaucer" - Pencil on Bristol, ACEO format - 2.5" x 3.5"
You can see an in-progress photo here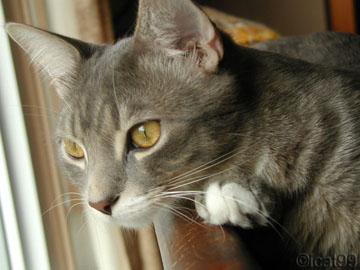 Photo provided by Chaucer's owner. I cropped it just a bit to fit the ACEO format.

Although I'm happy to say that Chaucer's owner will be buying this drawing, it wasn't a commissioned piece. Chaucer's owner is one of my Twitter followers and she posted a photo of him one day. The very striking photo really caught my eye, so I asked permission to use it for a drawing reference. As I always do when I use someone's photo for a "spec" drawing (one that isn't for a client), I offer the photographer first option to buy, but I let them know that there's absolutely no obligation. If she hadn't wanted to purchase the drawing, I would've given her a print and note card as thanks for letting me use the photo. Then I would've listed the original on-line in my Bonanzle booth or framed it and put it at the Auburn Old Town Gallery.

One of the many reasons I enjoy working on ACEO format drawings (ACEO = Art Cards, Editions & Originals) is that they're small and portable. If I'm not able (due to mood or time constraints) to tackle one of my larger in-progress pet portraits, I can put in a bit of time on an ACEO while sitting on the couch, waiting for an oil change, hanging out at Dad's house, etc. All I need is a couple of pencils, a sharpener, an eraser, my reading glasses and a small scrap of matboard as a support. I'm always looking for reference photos (even though I have tons of my own) that will make interesting ACEO subjects and I'm always grateful to those who allow me to use their photos.

Interested in an ACEO-sized portrait of your pet? Click here to find out more.

Note cards of Chaucer are available on Bonanzle.