Tuesday, March 16, 2010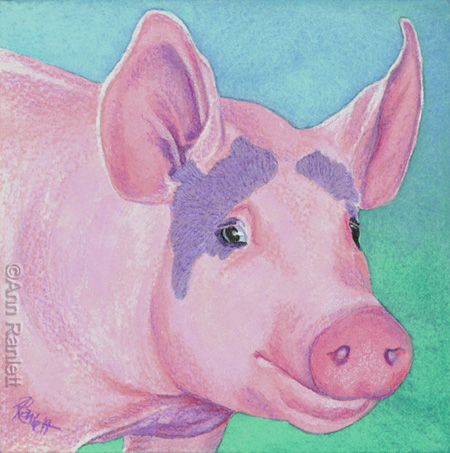 This 5" x 5" pink porcine painting is another one on the Art Board surface. I'm doing a series of new critter art that I'll debut at the Auburn Old Town Gallery in May. Starting in April, three Gallery artists will be featured each month. I'm one of those featured in May. Part of the deal is that we have to put up some new art, not an entire display of new art, just "some" new art. When I agreed to being featured in May, I quickly realized that using the ArtBoards for new works would be the best way to go. They're something new in my bag of tricks and they aren't as time consuming as some of my other techniques. Plus, I think they're really fun (to do and to look at)!
You can find this image on items in my Zazzle shop.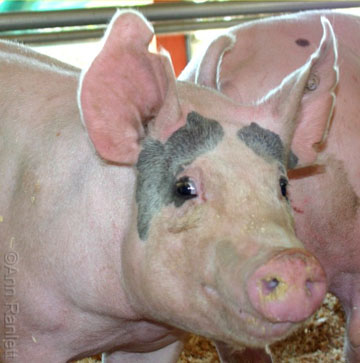 As you can see, I took the colors in a brighter direction than the real thing, as I've done with other paintings on this surface (Sydney, Sammy, Bailey & goats). And in this case, I cleaned up the pig quite a bit - I really didn't want to have a painting of a grimy, snotty-nosed pig.

In addition to the pig, I'll have a pug, toad, goat, rabbit and cat ready for the Gallery in May.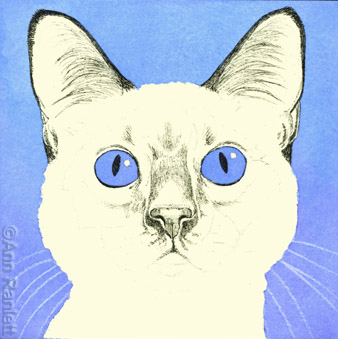 This is the cat in progress. I still have some work to do, but so far, I've used white color pencil (Prismacolor Verithin) for the whiskers, watercolor for the background and eyes and a black Micron pen for the dark areas. I drew the whiskers before I painted the background - the pencil resists the paint and I was able to do smooth washes without having to paint around the whiskers. These whiskers are fairly thin, so I decided to go that route instead of trying to get thin, smooth lines with masking fluid. You can't see it, but the white whiskers extend up into the cat's face. The reference photo I'm using for this painting is courtesy of Joy Smith of FieldHaven Feline Rescue.