Tuesday, November 23, 2010
Finished yesterday is this ink on scratchboard portrait of the lovely Madison, a very sweet girl who puts up with her much younger rambunctious "brother" Morgan, also a golden retriever. There's a portrait of Morgan in the works too.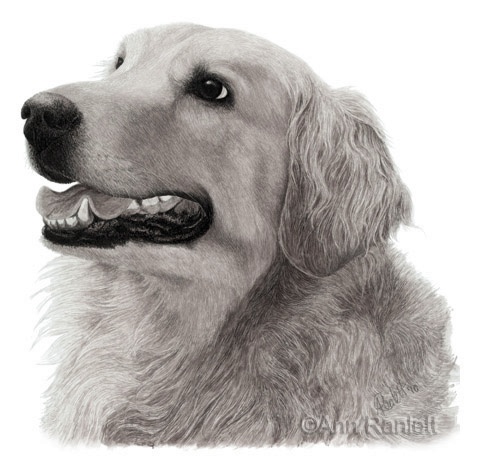 "Madison", 8" x 8", ink & ink wash on Essdee scratchboard


The reference photo (the original color version and the same one converted to greyscale):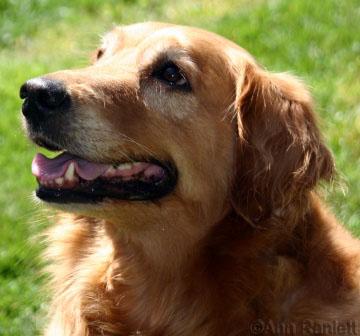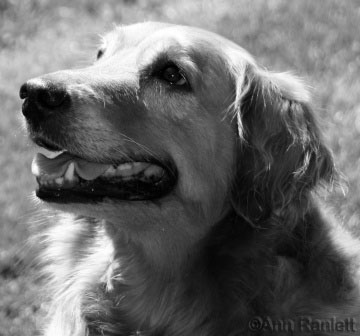 There's about a half inch more portrait at the bottom than there is photo, I just extended the fur to fill in that gap. There's also some harsh lighting in the photo - more shadow than I'd like and some pretty bright areas. I rectified that when I was working on the portrait. I also made her a little less grey around the muzzle and eyes - turning back the clock a bit.

I didn't scan the entire process on this portrait, but I did take a photo of the early stage, just after I had painted in the ink washes. The darkest areas are full-strength India ink applied with brush and technical pen. All the grey tones are various shades of washes of India ink applied with a brush.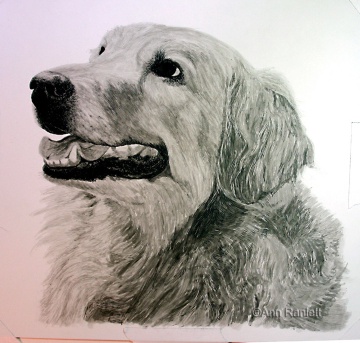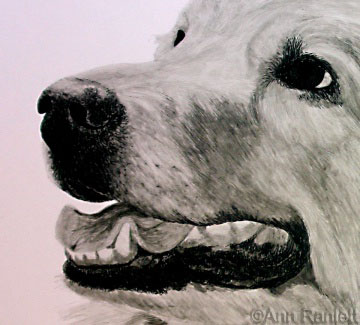 You can see how rough this stage is - since I'm working on scratchboard, I know I'll be able to smooth that all out with subsequent scratching and washes of ink. At this point, I just want the portrait blocked in with the correct shape and tones.

Here are some details of the final portrait so you can see the scratching and ink work.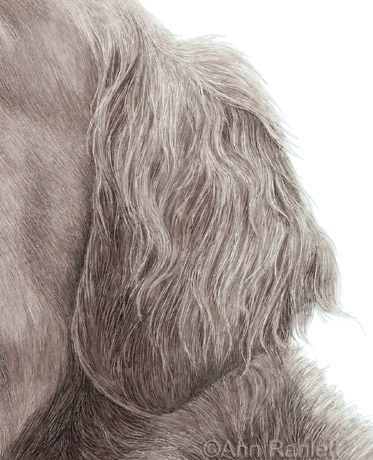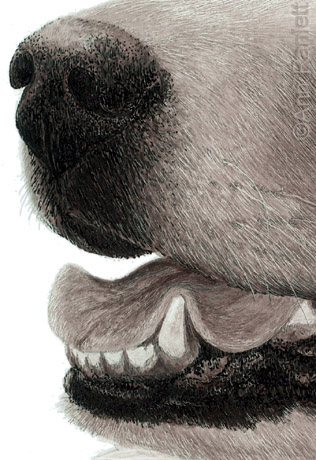 _______________________________________

Materials used for "Madison":
Essdee Scratchboard - a note on this, the board has changed from the stash that I have, it's thinner and more ivory in color. I don't like it nearly as much and have pretty much stopped using it. The stash that I have is like gold to me now! For non-commissioned scratchboard pieces, I use Ampersand Claybord.
Saral Transfer Paper (Graphite) - for transferring the photo to the scratchboard surface.
Koh-I-Noor UltraDraw Ink
Koh-I-Noor Rapidograph Pens
X-Acto Knife with #16 Blade
Graphite Pencils - Faber Castell 9000 - for adding fine hairs around the edges of the portrait and a few areas within the portrait.
Watercolor Brushes, no particular brand, rounds & flats, various sizes. I use brushes that I've retired from watercolor use or I buy inexpensive synthetic ones.