Saturday, February 03, 2007
I had a wonderful opportunity to get up close and personal to 2 amazing raptors (birds of prey) last Saturday (1/27). The California Foundation for Birds of Prey (CFBP) brought them out to the Scott's Corner Hay & Feed open house/fund raiser event which I also attended.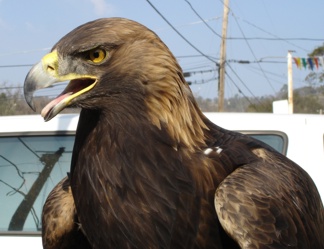 The event was fun with a steady crowd throughout the day. I displayed my art and sold a few small items; met lots of nice folks. It was also really good to spend some time with BK England, another local artist who had invited me to participate in the event. I run into her every so often, but haven't had the opportunity to spend time with her in quite a while - so that was great. She's a talented artist (specializing in equine art) and a sweet person.

Well, back to the birds: Tesla, the golden eagle was just downright impressive and Bob, the screech owl was adorable (but still awesome in his raptor-ness).


One of my favorite Gary Larson cartoons is "Birds of Prey Know They're Cool" and these birds reminded me of that. I tried to find a link to the cartoon on the web, but couldn't and I wouldn't dare scan my copy of it to put here - that would be copyright infringement, even though I have nothing but good intentions! In effect, the cartoon shows 2 hawks wearing sunglasses, sitting in a tree and looking very cool. I believe one of the hawks is even wearing a "Walkman" (a precursor to the iPod, for you young folks) - trust me, it's funny!

Neither Tesla 0r Bob can be released back to the wild - Tesla was electrocuted and severely injured when she tangled with some power lines (she's lucky to be alive) and Bob was taken in when he was very young so he was never able to learn what's necessary to survive in the wild on his own. Fortunately for them, and many other raptors that need help, the folks at CFBP are there. Most of the birds taken in by CFBP can be rehabilitated and released back into the wild, and obviously that's their goal. However, birds such as Tesla and Bob that can handle being exposed to the public are valuable teaching tools for educating the public about the place raptors have in nature. Please visit the CFBP web site to find out more about all that they do for these magnificent birds.