Wednesday, September 05, 2007
Join me and over 30 artists from around the world for an eBay art auction to help raise funds for mountain gorillas.

September 8th through 18th you can bid on a wonderful selection of art created by a talented group of international artists. Buy some great art and help a family of mountain gorillas from the comfort of your own home.

10 - 100% of the final price of any item sold from this set of auctions will benefit the gorillas. The money goes to Wildlife Direct, the organization which is coordinating the donations. I've commited to donating 50% of the final selling price of my art.

Visit the Art Helping Mountain Gorillas web site for additional information about the gorilla's plight, Wildlife Direct, this fund-raising project and to see a slideshow of the wonderful art that will be available.

All auctions will have WDGP (Wildlife Direct Gorilla Protection) in the title, so you can use that for your keyword search.

All my auctions will have WDGP Ranlett in the title.

Here are two of the items I'll have listed:

a graphite pencil ACEO (small format drawing 2.5" x 3.5")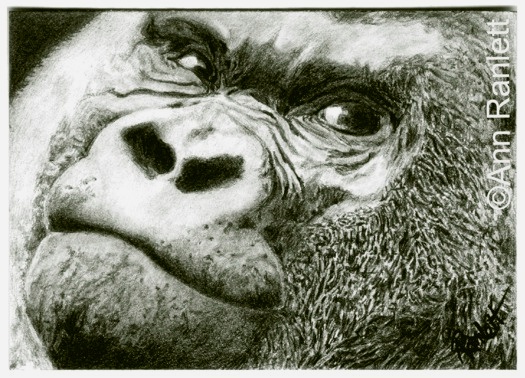 and a black scratchboard ACEO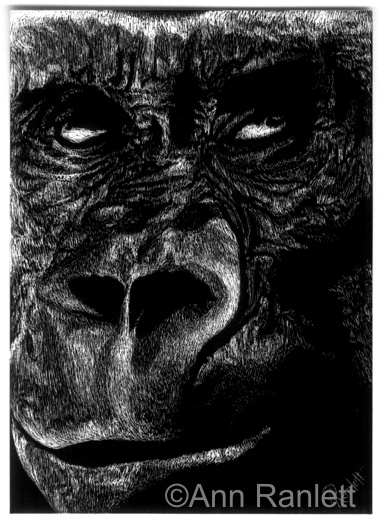 Most auctions will start around 6 pm on the 8th, but a few will start earlier in the day. Some may not start until later in the time frame (new art will probably be added after the 8th), but all will end on the 18th.

If you aren't interested in purchasing any art, but would just like to help, visit Wildlife Direct to find out more. Thank you for your interest & support!