Wednesday, February 27, 2008
I've just listed this ACEO to benefit Cast-A-Way Cats (CAWC).

20% of the final sale price will go to CAWC. This organization is, like many rescue groups, run on a shoestring and always struggling to place the pets in their care into forever homes. This all-volunteer group is in dire need of funds right now and with kitten season approaching, the need will be even greater.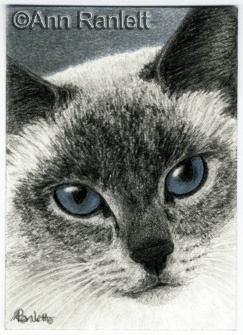 Graphite pencil & Prismacolor pencil (eyes & background)
2.5" x 3.5"
Click on the cat to see the auction listing.

I used a reference photo provided by an Art for Critters member (golders) - it's her cat "Tootles". I was taken by the look on Tootles' face and by her lovely blue eyes.

Here's golders' original photo:



and my cropped and greyscale versions sized to ACEO format: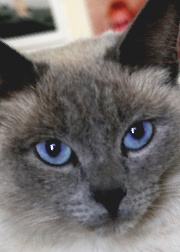 I knew from the beginning that I wanted to use graphite pencil for the drawing and then tint the eyes when the graphite work was completed. At some point while I was working on it, I decided to add a hint of blue to the background as well. There is graphite under the blue of her eyes and the background. I sprayed the graphite with a workable fixative to keep that layer from smudging while overlaying the color pencil.