Tuesday, March 11, 2008
. . . Hoppin' Down the Bunny Trail.

I had a little wind-up Peter Cottontail when I was a kid - I think of it every time that song comes to mind. It was metal, shaped like Peter dressed in all his finery and it would play the "Peter Cottontail" music.

But I digress a bit. . .

I've just listed a new ACEO (2.5" x 3.5" format art) on eBay: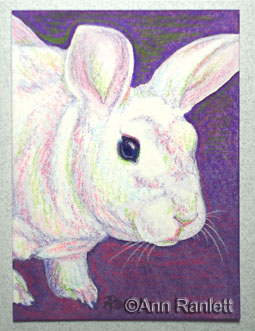 Click on the bunny to see the listing.

This is a color pencil drawing with a watercolor underpainting. I had a heck of a time getting the colors right on this image - I'm still not completely happy with it, but it's pretty close to the original. I always use my scanner to capture my art but this time it just wouldn't grab all the detail and subtle colors, so I had to resort to the camera.

The model is Snoopy, a friend's rabbit. This friend, Dianne Van de Carr, is a talented artist and animal lover. She works in fused glass - check out her website! Dianne has become a rabbit owner/rescuer by default - her first rabbit, Wasabi, was found in the street, missing most of his front feet. The damage had healed and no one knows what happened or why he was roaming the street. But he was a wonderful little guy who lived happily with Dianne and her family for many years. Now she has Snoopy, Chance & Ellie - all three are rescues. To find out more about one of Dianne's favorite rabbit rescues, visit F.U.R (Friends of Unwanted Rabbits).

The Art for Critters (A4C) group to which I belong came up with a promotion for March to benefit The Bunny Bunch (another rabbit rescue organization). A4C is encouraging folks to buy rabbit art, not rabbits during the Easter season. Buying a bunny for Easter is all too often an impulse purchase that results in far too many homeless bunnies! A4C artists are donating a portion from the sales of a variety of bunny art to help The Bunny Bunch's education and adoption efforts.



Click the image to see all the bunny-helping eBay auctions.