Sunday, March 30, 2008
Just a quick post to introduce square magnets featuring my watercolor "Paintings with Petzazz".

My art's been available on a variety of merchandise (t-shirts, mugs, mousepads, rectangular magnets, etc.) at CafePress, but I hadn't yet found a source for square magnets - a format I wanted for my square paintings.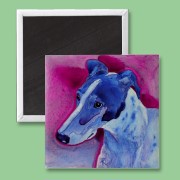 Visit my Zazzle Shop to see the new magnets.

For originals, fine art prints, earrings & note cards, visit my eBay Store or Etsy Shop