Tuesday, June 24, 2008
Here's a drawing I've wanted to do for a while. It's a close up of my horse's muzzle when she was eating. My horse is a 25 year-old palomino Quarter Horse, Bess (her registered name is Honey Moore Bess). I got the idea for this drawing a number of years ago at the local Draft Horse Classic. The art on the t-shirt that particular year was from a beautiful painting of a grazing draft horse by Adeline Halvorson. Her painting showed the horse's entire head, part of the neck and the lovely feathered front feet, but the part I loved best was the wrinkly muzzle. I tried to find the art on her Adeline's web site - that particular painting isn't there, but she has some other great equine art worth checking out.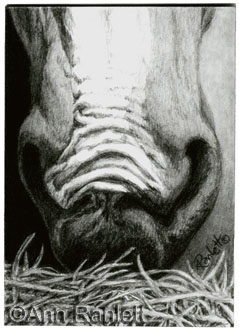 Update 11/9/08 - this ACEO has sold.

To get the reference photo for this drawing, I put some hay out on the lawn and sat in front of Bess with my camera, happily snapping away while she happily munched away. Here's the original photo: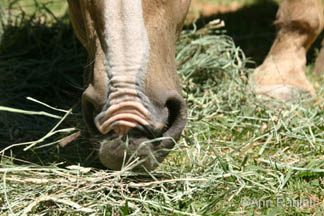 I decided to do a really close crop on the photo to create a somewhat abstract drawing that focused on the wrinkles of her muzzle. I cropped to ACEO size (2.5" x 3.5") and printed the color version and also a greyscale version (which helps me figure out the tones and contrast when I'm working in pencil). Then I transferred the image to my paper and started drawing. I didn't do a WIP (work in progress) of this one, but you can see my process for another pencil drawing in this video.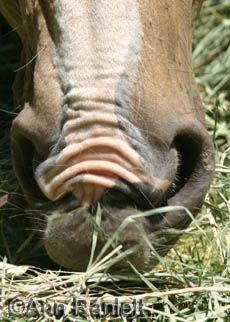 This drawing is "#1" because I'd like to do one or two more some day. I'll crop a bit differently and perhaps use color pencil for the next one.