Sunday, July 20, 2008
I met this striking girl at Happy Tails Pet Sanctuary a couple of years ago. I donated a painting to their fund raiser and attended the event, which was in a parking lot across the street from Happy Tails. I popped in to visit the kitties and took photos of a few of them. This girl's markings really caught my eye - I'd never seen a cat with a stripe down her nose like that. I knew she'd become the subject of a drawing some day!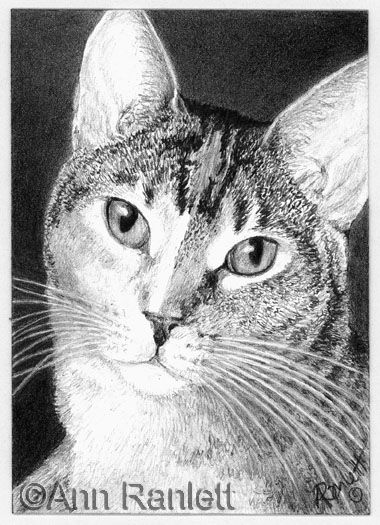 I titled this mini drawing "GraphiCat" because her markings look "designed".
This drawing measures 2.5" x 3.5" and is available in my Etsy shop. Click on the cat to find the Etsy listing.

A portion of the proceeds from the sale of this drawing benefits my local feline rescue facility: FieldHaven.