Wednesday, April 08, 2009
These charismatic girls are Juna & Luna, pit bull/lab mix sisters. Each portrait measures 6" x 6". I typically don't include pets' collars in their portraits, but Juna & Luna's owners searched far and wide for the perfect collars for their girls and we all agreed that the collars should be in the portraits. It also made the background color choices a no-brainer.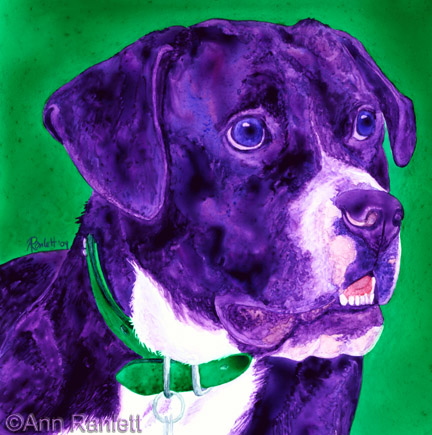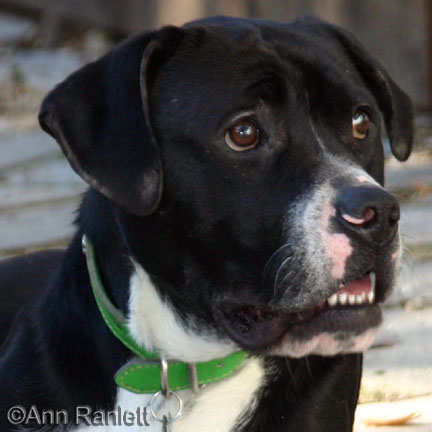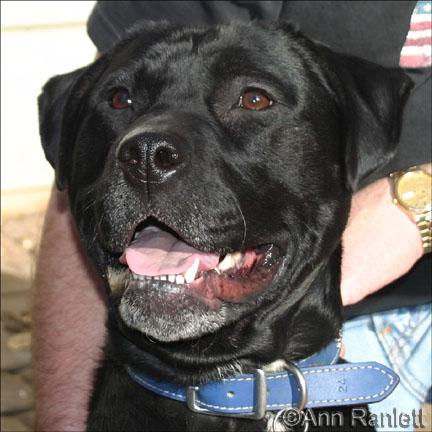 You may have noticed that my last few watercolor dog portraits have been purple. I have a simple explanation for that. The latest batch of portrait commissions have included black, dark brown or steel grey dogs. For my watercolor Petzazz portraits, I like to use vibrant and/or bright colors instead of the critters' natural coloring. I still try to use colors that represent the pet's natural coloring though. So I've found that purple is a perfect color for black or dark dogs. It "reads" as a dark color but it's vibrant and interesting.

I don't use purple straight out of the tube either, I like to mix the colors. I usually use ultramarine blue, rose of ultramarine and carbazole violet (Daniel Smith watercolors). Sometimes I'll throw in a little quinacridone rose. Mixing these colors results in more variety of shades/colors on the portrait.

You can see in this detail of Juna's portrait how the colors separate on the Yupo and add to the unique look of this style of portrait. The darkest areas that appear black are just a thick mix of the colors I use to make purple.