Monday, June 08, 2009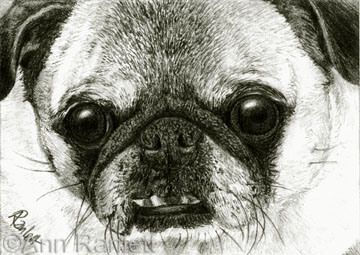 My latest ACEO (2.5" x 3.5" small format drawing) is a pencil drawing of Muggs the pug. Now, don't get me wrong, I like pugs, they're funny dogs with lots of character and they love their people . . . but really . . . I have to say they are not the most attractive dogs. And dear Muggs, well, let's just say she had a face only a mother could love. Muggs passed away a while ago, but I was able to meet her and take some photos a few months before she passed. She was a very sweet dog who belonged to friends of my Dad. They have been so good to him, I wanted to give them a gift of a portrait of Muggs.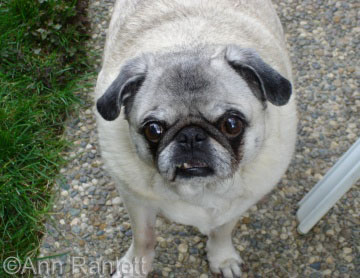 My photo of Muggs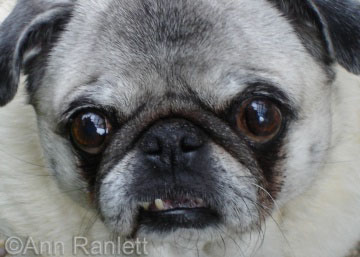 The same photo cropped to ACEO format

Another new drawing is this small ink on scratchboard pygmy goat. It's only 2.5" x 2.5" - mainly because a 4" x 4" piece of Claybord I had was defective on two of its sides. I didn't want to throw it out, so I just used the center.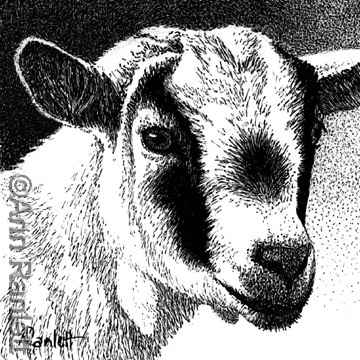 I'll have the framed drawing with me on Thursday night (June 11, 6 - 9 pm) at the Auburn Art Walk. If it doesn't sell that night, I'll hang it at the Auburn Old Town Gallery. For the Art Walk, I've put together a show of works from students that have taken my ink on scratchboard classes. I'll also have my drawing of a pinto filly in the scratchboard show. The show runs for two months - until the next Art Walk in October. The scratchboard work will be at Dancing Dog Productions, 1101 High Street. Other locations in Old Town and Downtown Auburn (CA) will feature art by other local/regional artists.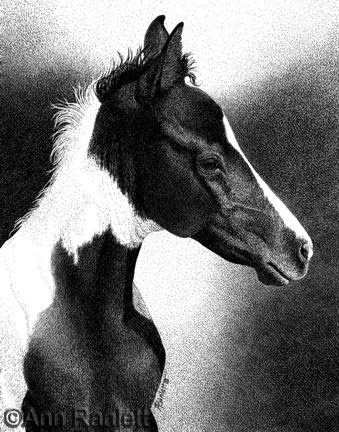 Click here to see my previous blog post about this drawing.